Regular price
Sale price
$10.00
Unit price
per
Sale
Sold out
Our Lip Repair Balm, your winter lip savior! Say goodbye to dry, chapped lips with this luxurious lip balm created to lavish your lips with softness, smoothness, and deep hydration. Packed with nourishing ingredients like lanolin, mango butter, castor oil, avocado oil, and vitamin E, it's your secret to soft, luscious lips all season long. 
Use as a daily lip balm or give your lips some real TLC and use it as an overnight lip mask right before bed time. 
Share
View full details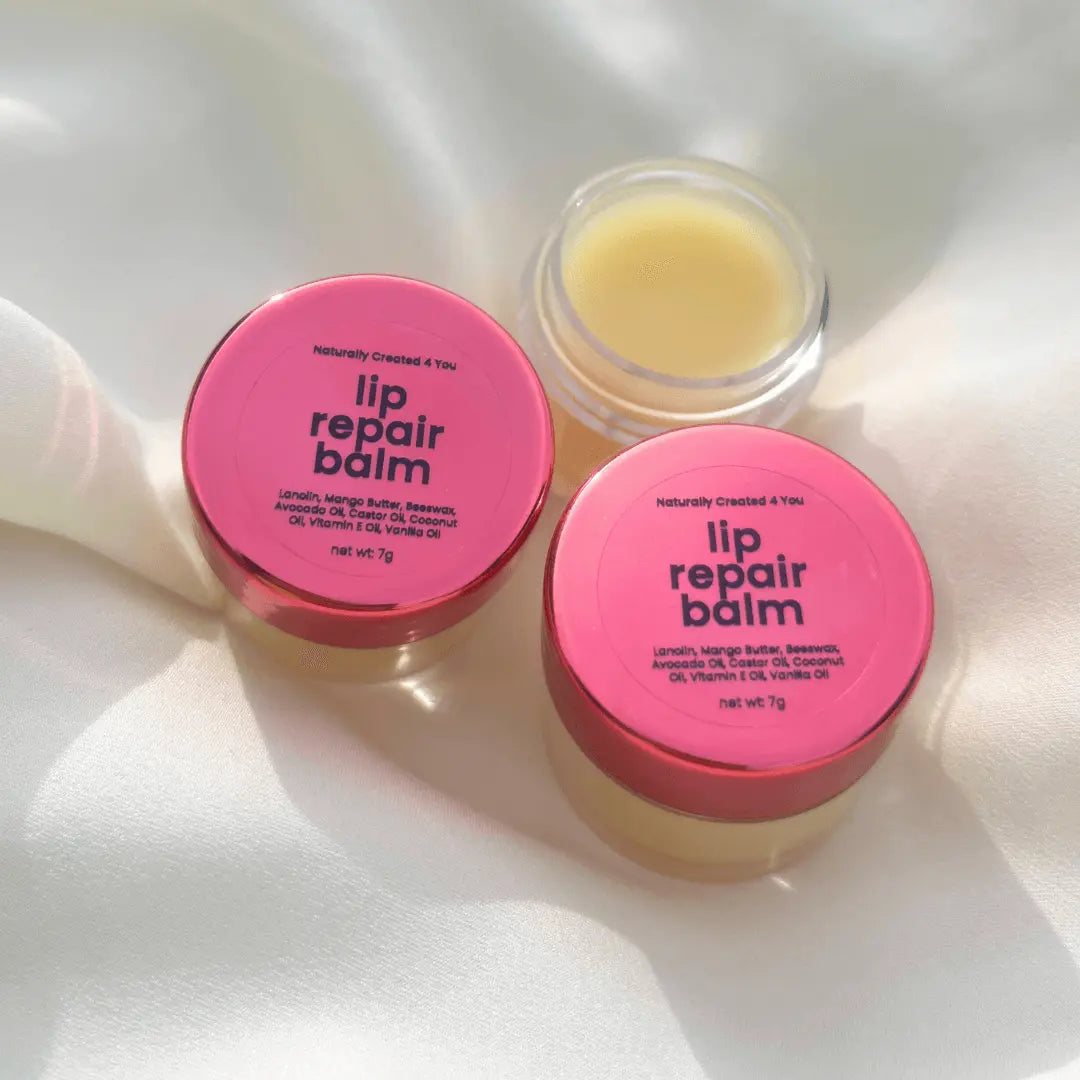 Let's Get into The Details
Why You'll Love It

Intense Hydration: Our Lip Repair Balm is a moisture powerhouse, thanks to ingredients like lanolin, avocado and coconut oil. It deeply hydrates and replenishes dry lips, leaving them silky smooth.

Healing and Soothing: Castor oil and vitamin E work together to heal and soothe chapped lips, reducing discomfort and irritation.

Nourishment: Mango butter provides essential vitamins and antioxidants that nourish your lips, promoting overall lip health.

Protection: Castor oil and beeswax forms a protective barrier, shielding your lips from harsh winter elements like wind and cold temperatures.

Kissable Lips: Together, these ingredients work in harmony to promote irresistibly soft and smooth kissable lips.
What's In It?

Full ingredients: Lanolin, Mango Butter, Beeswax, Avocado Oil, Castor Oil*, Coconut Oil, Vitamin E Oil*, Vanilla Oil

*certified organic,  ** certified organic and fairtrade,  ++ECOCERT certified

Net Weight: 7g

All of our products are made with 100% natural ingredients. We do not use any preservatives or synthetic fragrance. Natural ingredients may vary in color and consistency due to the products being 100% natural.
How to Use It?

Apply a generous layer of the Lip Repair Balm evenly over your lips. For an over night lip treatment, apply before bed.

How to Store: Store upright in a cool, dry place and out of direct sunlight. Discard after 12 months.
Disclaimers

*DISCLAIMER: Our products may appear inconsistent in color due to the use of natural ingredients. We cannot guarantee the exact same color from batch to batch, but rest assured that the quality and effectiveness of the product remains the same.


*DISCLAIMER: Our products are for external use only. Please do a patch test on your skin before using new products. If irritation occurs, discontinue use immediately.


*DISCLAIMER: Information on our website and product labels are for educational purposes only and not intended as medical advice.If you are pregnant or nursing, or are concerned about a particular health condition, please consult your physician before using any of our products.


*DISCLAIMER: The Food and Drug Administration has not evaluated the statements made regarding our products. Our products are not intended to diagnose, treat, cure, or prevent any disease.
Lip hydration
Loving this lip repair as I just got into lip care this year and was using Vaseline at night. I appreciate the skin protection and hydration it does for my lips in conjunction with my water intake. A little goes a long way and I use this before bed and throughout the day but don't have to use as much because it's all natural products which helps the longevity of the product on your skin!
Love it!!!
It feels so good on my lips. I highly recommend.
Love ❤️
This lip repair is amazing! My lips have never felt so soft! Love it!
Soft lips 💋
I LOVE this little lip balm. A little def goes a long way. I use it as part of my night routine & apply it right before bed. My lips are SO soft & hydrated in the morning. ❤️ It also doesn't leave a white crusty line on the lips if you use it during the day like other balms/chapsticks do. 100/10 would recommend and would love to see more scents to it too :)
Gotta have!
I love this stuff! I always have 2… one in my purse and one for my morning and night routine! It feels so extremely soft and moisturizing to my lips! 🥰