Regular price
Sale price
$15.00
Unit price
per
Sale
Sold out
Our sea moss hair oil is known for stimulating hair growth as well as promoting a healthy scalp without leaving your hair feeling greasy. Our lightweight hair oil is infused with sea moss to strengthen hair, prevent shedding and breakage as well as treat dry and itchy scalp issues. 
Sea Moss Benefits For Your Hair:
Sea Moss, a true haircare hero, combats oxidative stress, reducing hair loss while promoting lush growth. Its strengthening magic prevents breakage, offers intense hydration, soothes scalp itchiness, and reduces dandruff and flaky scalp trouble. The result? Moisturized strands, fuller hair and a healthier scalp!
Share
View full details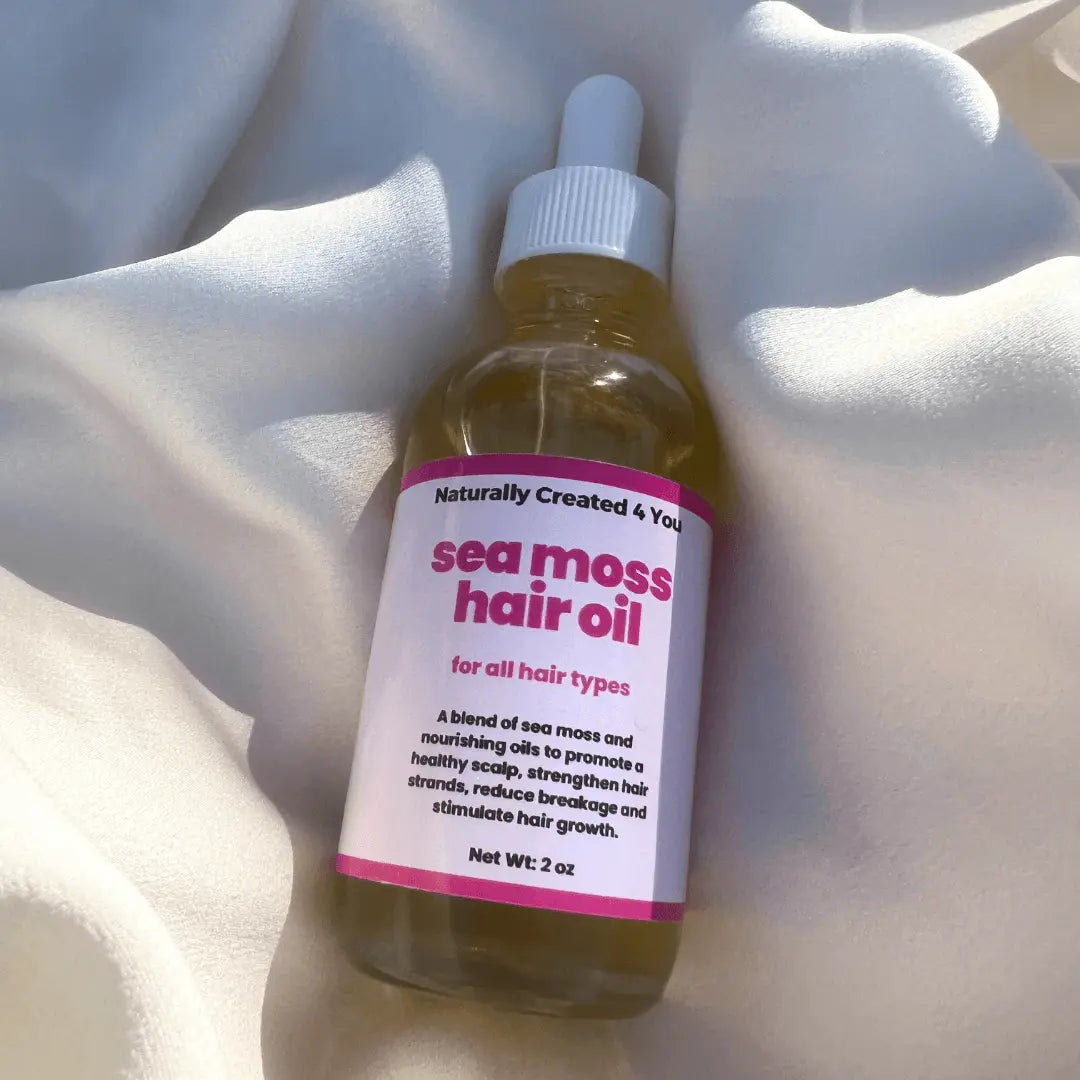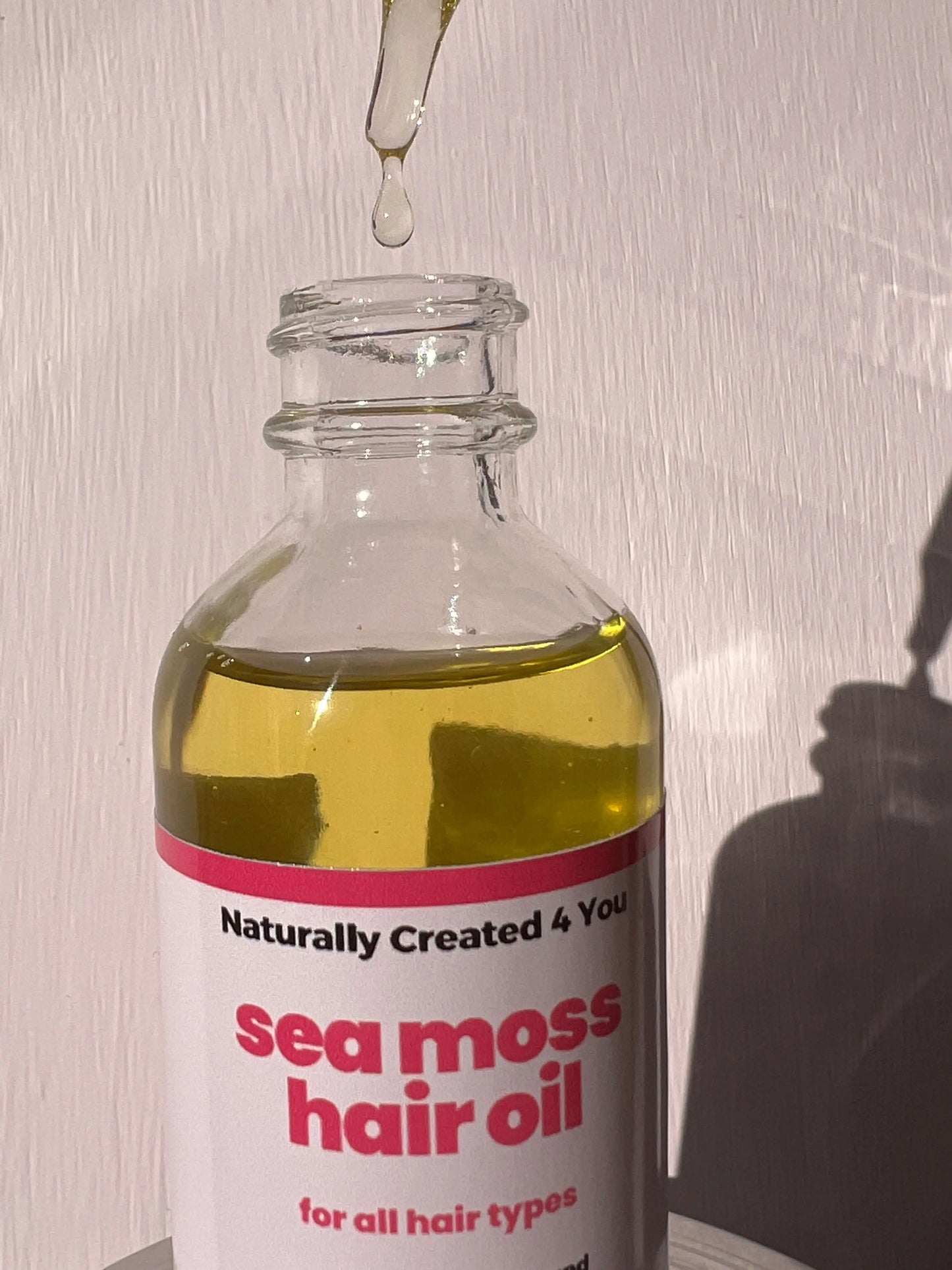 Let's Get into The Details
Why You'll Love It

Promotes Hair Growth: The blend of castor oil, sea moss, and rosemary oil stimulates hair follicles, encouraging hair growth and thickness.

Strengthens Strands: Castor oil and sea moss work together to strengthen hair, reducing breakage and promoting healthier locks.

Deep Hydration: Coconut oil and grapeseed oil provide intense moisture to the hair shaft, preventing dryness, frizz, and split ends.

Nourishes Scalp: Olive oil and sea moss nourish the scalp with vitamins and antioxidants, promoting overall hair health.

Treats Dry, Itchy Scalp: Olive oil and castor oil have moisturizing properties that can help alleviate dryness, itchiness and flakiness associated with dandruff.

Soothes Scalp: Rosemary and peppermint oils have a cooling effect, soothing the scalp, reducing itchiness, and helping control dandruff.

Adds Lustrous Shine: Grapeseed oil leaves your hair looking glossy and vibrant, enhancing its natural shine, without feeling greasy or heavy.
What's In It?

Full ingredients: Castor Oil, Coconut Oil++, Almond Oil, Grapeseed Oil, Olive Oil, Sea Moss*, Rosemary Oil++, Tea Tree Oil++, Peppermint Oil++, Ylang Ylang Oil

*certified organic,  ** certified organic and fairtrade,  ++ECOCERT certified

Net Weight: 2 oz

Our commitment to using 100% natural ingredients means that you may notice variations in color and consistency in our products. Rest assured, the quality remains consistently exceptional.
How to Use It?

Apply oil directly to scalp & massage gently. Style as usual. (Can be used daily)
Disclaimers

*DISCLAIMER: Our products may appear inconsistent in color due to the use of natural ingredients. We cannot guarantee the exact same color from batch to batch, but rest assured that the quality and effectiveness of the product remains the same.


*DISCLAIMER: Our products are for external use only. Please do a patch test on your skin before using new products. If irritation occurs, discontinue use immediately.


*DISCLAIMER: Information on our website and product labels are for educational purposes only and not intended as medical advice.If you are pregnant or nursing, or are concerned about a particular health condition, please consult your physician before using any of our products.


*DISCLAIMER: The Food and Drug Administration has not evaluated the statements made regarding our products. Our products are not intended to diagnose, treat, cure, or prevent any disease.
Hair growth oil
This product is amazing. I used it as a prepoo after taking out my braids and it was so soothing to my scalp.
My hair grew!
I have been using the hair growth oil and my hair has grown so much. Will definitely repurchase.
Absolutely Love It!
I'm so glad that I gave this product a try. Most of my life I've had a REALLY bad dry scalp which resulted in REALLY bad dandruff. I've used tons of oils, hair grease, shampoos you name it to clear it up and nothing seemed to do the job. Not until I ordered this. I've been using it almost two weeks now my scalp has never felt so good and looked so clean. Because I've been using it in between washes, after I wash my hair I have noticed that my scalp doesn't flake up right away. Oh yeah, and it leaves my hair feeling soft. Definitely will reorder.
Definitely Works on Dandruff
My 17 year old has had extremely bad dandruff for awhile now. She has tried Head and Shoulders, Selsun Blue, and other products but none have helped the way this oil has worked for her. Not only has it stopped the dandruff but it also smells really good and she gets a little wave in her hair that she absolutely loves. Thank you for these great products!!
great addition to hair routine
I really like this product. I've been using almost a month now so now quite long enough to see hair growth results but long enough to know I like it. My scalp feels better for sure. It was very dry even after 1 day and I used to go several days before I got that feeling. I'm now back to several days.
I put this in either the night before or the morning before if I shower at night. It can make it a little oily looking but I stick it in a bun and just don't go out.
A note to the wise, learn from my mistake, make sure the lids closed before you shake it. I shake it out of habit not out of necessity and I oiled my entire counter it seems.
Hey Jennifer! I'm glad the oil is helping your scalp. I recommend using the oil at night so that it can soak up over night. If it feels too oily maybe use it every other night. Instead of using the bottle application you can put it on your fingers and then massage into your scalp so that you can control the amount of oil. That is my preferred way of applying because I have fine hair. Hope these tips help!