Regular price
Sale price
$20.00
Unit price
per
Sale
Sold out
Are you tired of dealing with dark spots, stubborn acne, or ingrown hairs while shaving? Look no further than our turmeric scrub! This powerful head to toe formula is designed to combat hyperpigmentation, acne, and oily skin, leaving you with smooth and glowing skin. It can be frustrating to find a scrub that is safe to use on your entire body, from head to toe, while not sacrificing any of the benefits your skin deserves.

Our unique blend of nourishing ingredients, including shea butter, jojoba oil, and organic turmeric root powder, work together to unclog pores, fight harmful bacteria, and exfoliate dead skin cells. Whether you suffer from eczema, dull skin, or simply want to reveal your natural glow, our turmeric scrub is perfect for all skin types. 

You will never find any fragrance oils in our products. We believe in incorporating only the natural goodness of essential oils, known for their skin-loving properties and therapeutic aromatherapy benefits. Our commitment to you is to only use ingredients that provide a benefit to your skin and overall health. 


Skin Type:
 For All Skin Types
Say Goodbye To:
Hyperpigmentation, Dark Spots, 
Breakouts, Oily Skin, Inflammation, Irritation, Uneven Skin Tone, Eczema, Dry Skin
Share
View full details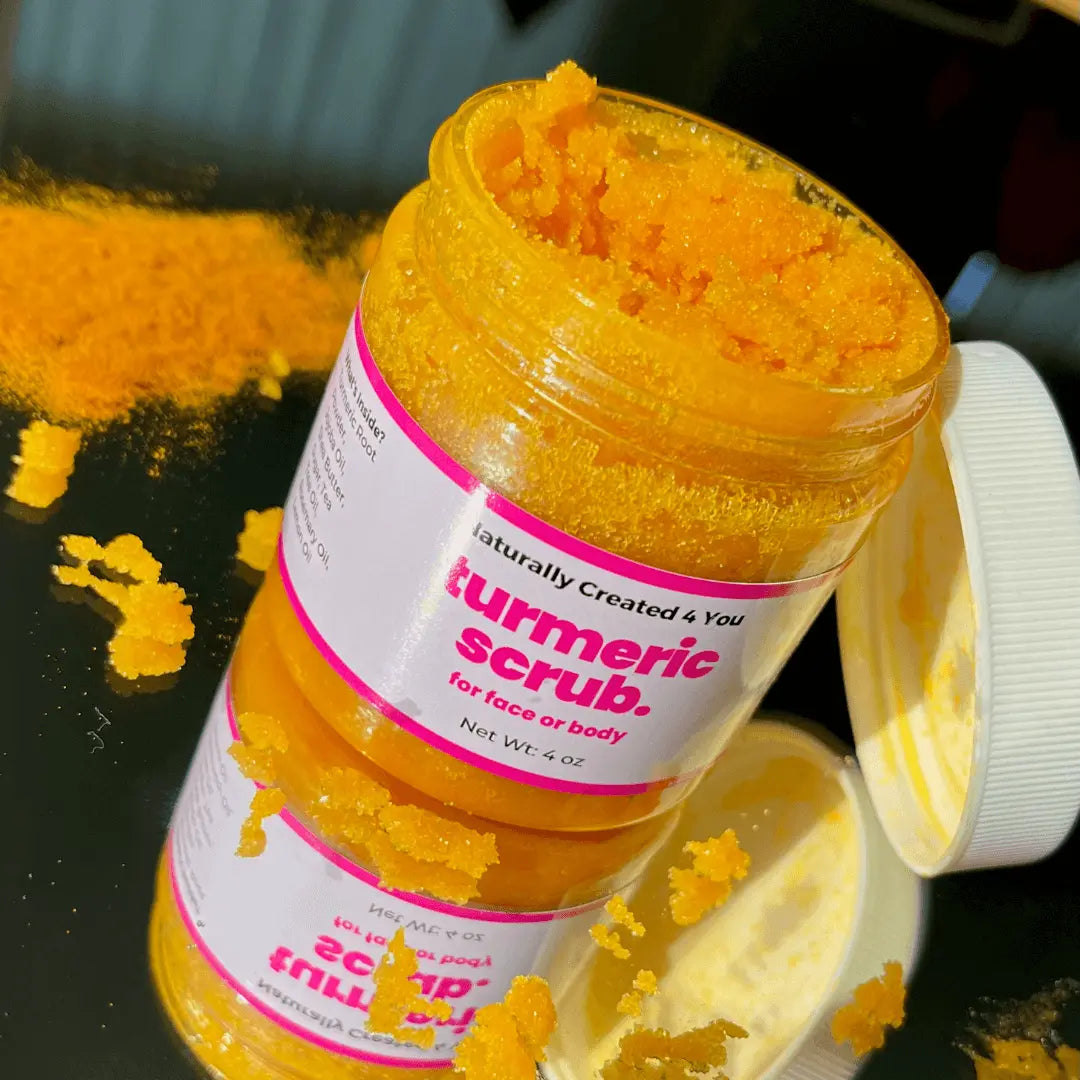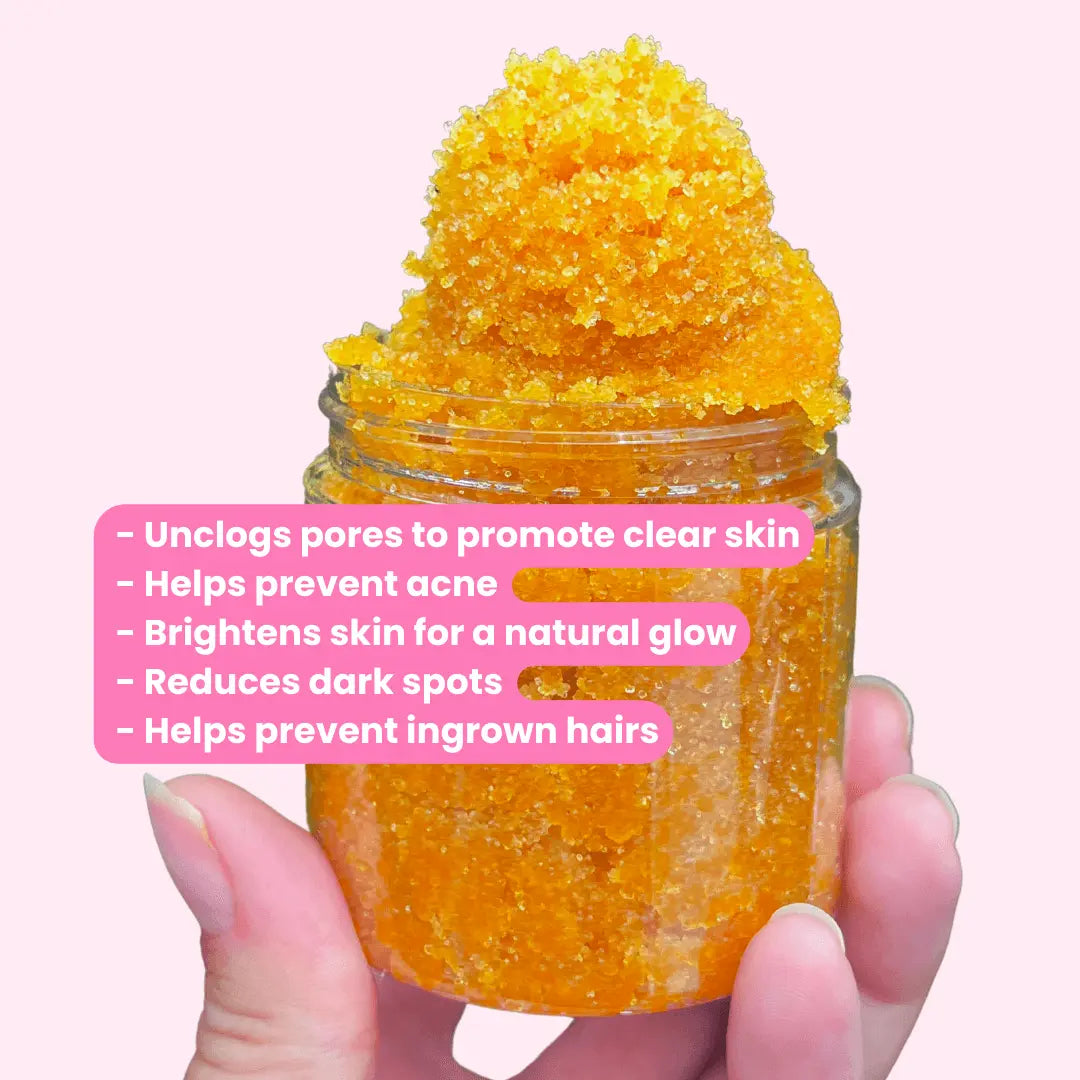 Let's Get into The Details
Star Ingredients

Why is turmeric good for your skin?
Turmeric is a spice that contains curcumin, a pigment that has been shown to have powerful anti-inflammatory properties. Curcumin can help with hyperpigmentation and even skin texture, leading to a brighter, more radiant complexion.

Why is jojoba oil good for your skin?
Jojoba oil is a great remedy for dull skin and hyperpigmentation. Because it's rich in essential fatty acids, jojoba oil can help boost moisture retention in the skin, which results in healthier-looking, more radiant skin. Jojoba oil penetrates deep into skin and increases collagen production to improve your complexion.

Why is shea butter good for your skin?
Shea Butter is an excellent option for nourishing dull skin. Shea butter possesses emollient and skin softening properties, which allow it to create a protective barrier between the skin and irritants. This aids in skin restoration and may also improve the appearance of scars.
Why You'll Love It

Gently exfoliates and removes dead skin cells for a brighter complexion
Shea butter and jojoba oil work together to nourish and moisturize the skin without clogging pores
Helps treat and prevent acne breakouts, eczema and psoriasis
Evens out skin tone and fades dark spots and hyperpigmentation
Improves skin texture and leaves skin feeling soft and buttery smooth
Anti-aging properities promote healthy skin renewal for a more youthful-looking complexion
Safe to use on face, body, lips

Say goodbye to dark spots and dull skin. Our one of a kind turmeric sugar scrub is known for leaving skin buttery soft and revealing a radiant, natural glow. Our sugar scrub dissolves dead skin cells, removing debris that can clog pores and prevent your skin from breathing. It's fresh blend of tea tree, rosemary and lemon is perfect for unwinding after a long day or slowing down to appreciate the simple things.

What's In It?

Full ingredients: Sugar, Jojoba Oil++, Shea Butter**, Turmeric Root Powder**, Lemon Essential Oil, Tea Tree Essential Oil++, Rosemary Essential Oil++

*certified organic,  ** certified organic and fairtrade,  ++ECOCERT certified

Net Weight: 4 oz

All of our products are made with 100% natural ingredients. We do not use any preservatives or synthetic fragrance. Natural ingredients may vary in color and consistency due to the products being 100% natural.
How to Use It?

Using a spatula or clean, dry hands, scoop out the body scrub and gently rub it onto your skin in circular motions for 30 seconds. Rinse with water. Cleanse with ABS Face Wash immediately after. Use 1-3 times a week for best results.

**Excessive exfoliating can lead to irritation and worsen skin. Do not exceed exfoliating 3x or more per week.

**Our turmeric scrub contains turmeric powder which can cause staining if you do not follow up with a cleanser immediately after rinsing off product.

**Dipping wet hands directly into the container will shorten the life of the product. 

*Note: The first time you use this product you may experience skin purging. Your skin is removing all the oil, dirt and debris from your skin and bringing it to the surface. Be patient with your skin. It takes on average 30 days for your skin cells to turn over. Be consistent and trust the process.

How to Store: Store upright in a cool, dry place and out of direct sunlight. 
Return Policy

We want you to be completely satisfied with your purchase. If for any reason you are not, you may return your products within 30 days of delivery. However, please note that our company is not liable for the cost of return shipping.

To initiate a return, please send an email to customerservice@naturallycreated4you.com with your order name, order number, and a brief explanation of the reason for the return. We will provide you with further instructions on how to proceed.

Once we receive the returned products, we will process a refund or offer store credit based on your preference. Refunds will be issued in the same form of payment used during the original purchase. Please allow 3-5 business days for the refund to be processed and reflected in your account.

Please note that products must be in new or gently used condition to be eligible for return. We do not refund original shipping charges. All gift cards, sale items and sample sizes are final sale.

Do you have questions, comments or concerns that you need help with? Fill out our form & we will get back to you within 24-48 hours. 

 

 

 
Disclaimers

*DISCLAIMER: Our products may appear inconsistent in color due to the use of natural ingredients. We cannot guarantee the exact same color from batch to batch, but rest assured that the quality and effectiveness of the product remains the same.


*DISCLAIMER: Our products are for external use only. Please do a patch test on your skin before using new products. If irritation occurs, discontinue use immediately.


*DISCLAIMER: Information on our website and product labels are for educational purposes only and not intended as medical advice.If you are pregnant or nursing, or are concerned about a particular health condition, please consult your physician before using any of our products.


*DISCLAIMER: The Food and Drug Administration has not evaluated the statements made regarding our products. Our products are not intended to diagnose, treat, cure, or prevent any disease.
Feels so amazing
Love love love! My skin feels super soft and moisturizer after every use
Leaves my skin feeling soft and clean
Love after first use
I knew this stuff was good after how soft and moisturized my face and neck felt after the first use. My skin tone on my neck and pits has already evened out. I'm currently keeping track of how fast my blemishes fade using some stuff from urban skinrx and I've definitely had some progress after 2 months but once I started using both that and this scrub I swear my blemishes have faded tremendously within a week! I'm so glad I decided to give this stuff a try it fits in perfectly with my routine. I'm getting ready to order more now!
Love using this!
I love using this scrub, its like a spa treatment! It feels so good rubbing it on my face and when rinsed off my face is so buttery soft! I've been noticing a dark spot on my face getting lighter. So happy with the results!