Regular price
Sale price
$22.00
Unit price
per
Sale
Sold out
Featuring Bakuchiol: A Natural Alternative to Retinol
Discover the magic of bakuchiol, a botanical powerhouse that serves as a natural alternative to retinol. This remarkable ingredient enhances skin elasticity, reduces the appearance of fine lines and wrinkles, and improves overall skin texture without the potential irritation associated with traditional retinol products.
Handcrafted with skin-loving ingredients like rosehip oil, squalane, and sea moss, our daily facial serum is your go-to solution for complexion perfection. Rosehip oil brightens and evens out skin tone, squalane delivers a silky smooth texture, and sea moss assists in maintaining the skin's hydration, youthful complexion, and overall health. It's the winning combination for smooth, glowing skin!
1 oz
Share
View full details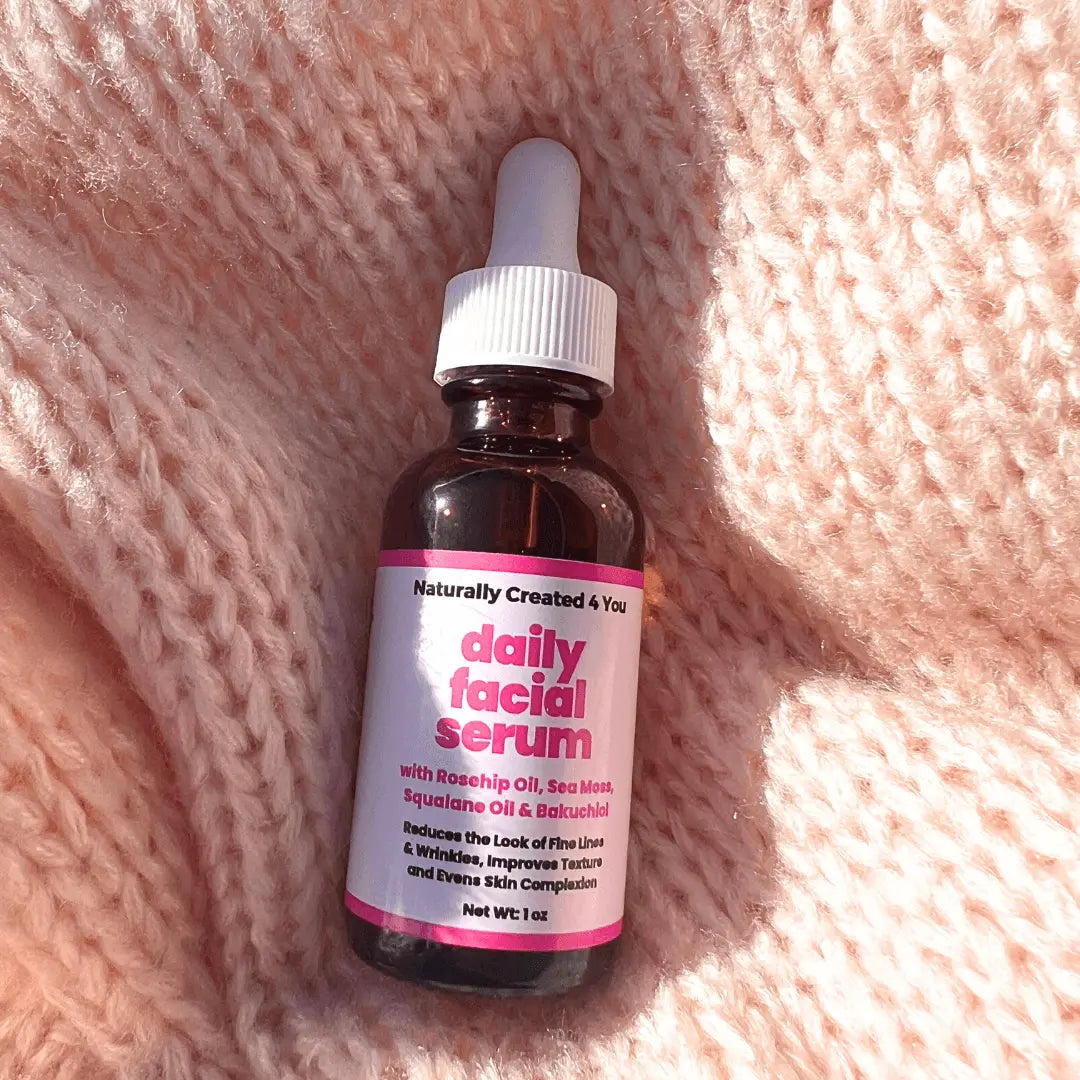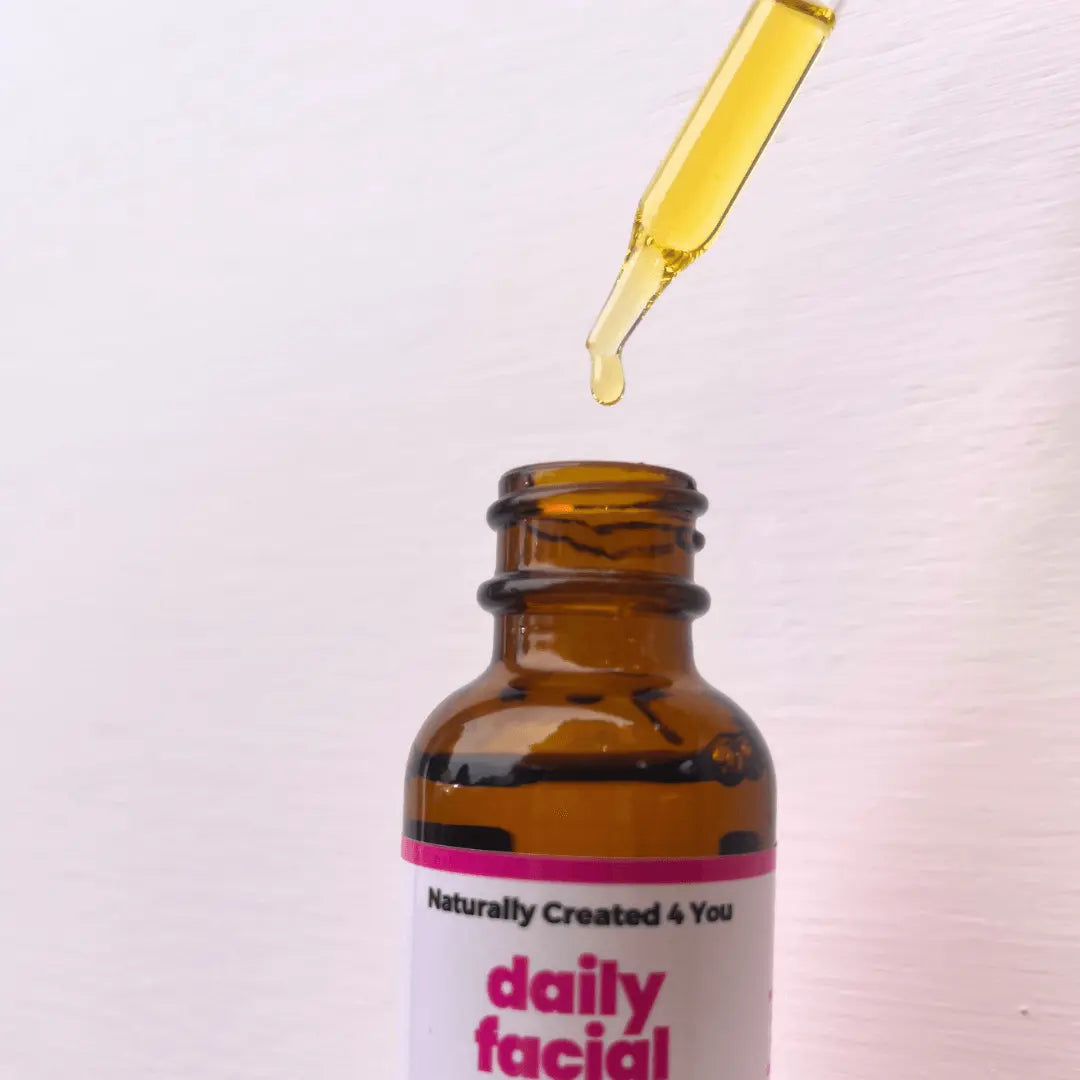 Let's Get into The Details
More About Bakuchiol

How Can Bakuchiol Help Your Skin?

Reduces Fine Lines and Wrinkles: Bakuchiol is renowned for its ability to stimulate collagen production, helping to smooth out fine lines and wrinkles, resulting in firmer, youthful-looking skin.

Improves Skin Texture: This natural wonder helps improve skin texture by reducing roughness and enhancing overall smoothness.

Boosts Hydration: Bakuchiol has hydrating properties that help maintain your skin's moisture barrier, keeping it plump and hydrated.

Enhances Skin Elasticity: With regular use, Bakuchiol can enhance skin elasticity, making it appear more resilient and supple.

No Photosensitivity: Unlike retinol, Bakuchiol doesn't make your skin more sensitive to the sun, so it's safe to use during the day.
Why You'll Love It

Complexion Enhancement: With Sea Moss and Bakuchiol, it improves skin texture and promotes an even, glowing complexion.

Skin Renewal: Squalane and bakuchiol promote skin cell turnover and renewal. This gentle exfoliation process helps reveal fresher, more youthful skin while diminishing the appearance of fine lines and imperfections.

Elasticity and Youthfulness: Sea Moss and squalane enhance skin elasticity, reducing the appearance of fine lines and wrinkles for a more youthful complexion.

Antioxidant Defense: Packed with the power of pomegranate oil and rosehip oil, our serum offers robust antioxidant protection. It shields your skin from free radicals and environmental stressors, helping to prevent premature aging and maintain a healthy, radiant complexion.

Balanced Moisture: The combination of squalane and jojoba oil ensures optimal moisture balance for your skin. It helps to hydrate dry areas, control excess oil production in oily areas, and create an overall harmonious and comfortable feel.

Anti-Inflammatory: With the calming properties of rosehip oil and sea moss, our serum soothes irritated skin, reducing redness and inflammation. It's the perfect solution for achieving a complexion that feels as good as it looks.
What's In It?

Full ingredients: Jojoba Oil++, Sea Moss*, Rosehip Oil*, Squalane Oil (olive oil derived), Bakuchiol Liquid Extract, Pomegranate Oil*, Vitamin E Oil*

*certified organic,  ** certified organic and fairtrade,  ++ECOCERT certified

Net Weight: 1 oz

Our commitment to using 100% natural ingredients means that you may notice variations in color and consistency in our products. Rest assured, the quality remains consistently exceptional.
How to Use It?

Gently Shake. Apply a few drops into fingers & gently massage onto clean skin.

How to Store: Store upright in a cool, dry place and out of direct sunlight. 
Disclaimers

*DISCLAIMER: Our products may appear inconsistent in color due to the use of natural ingredients. We cannot guarantee the exact same color from batch to batch, but rest assured that the quality and effectiveness of the product remains the same.


*DISCLAIMER: Our products are for external use only. Please do a patch test on your skin before using new products. If irritation occurs, discontinue use immediately.


*DISCLAIMER: Information on our website and product labels are for educational purposes only and not intended as medical advice.If you are pregnant or nursing, or are concerned about a particular health condition, please consult your physician before using any of our products.


*DISCLAIMER: The Food and Drug Administration has not evaluated the statements made regarding our products. Our products are not intended to diagnose, treat, cure, or prevent any disease.