Regular price
Sale price
$18.00
Unit price
per
Sale
Sold out
For women who struggle with Vaginal Skin Irritation, Vaginal Odor, Vaginal Dryness, Sensitive Skin, Ingrown Hair, Razor Bumps

Step into a world of complete feminine care with our Pure Yoni Oil - because your intimate area deserves the same love and attention as the rest of your body and face. Handcrafted with a nourishing blend of jojoba oil, coconut oil, and almond oil, our lightweight Yoni Oil keeps your intimate skin moisturized and soothes skin irritation after shaving or waxing while helping prevent pesky ingrown hairs. 
1 oz
Share
View full details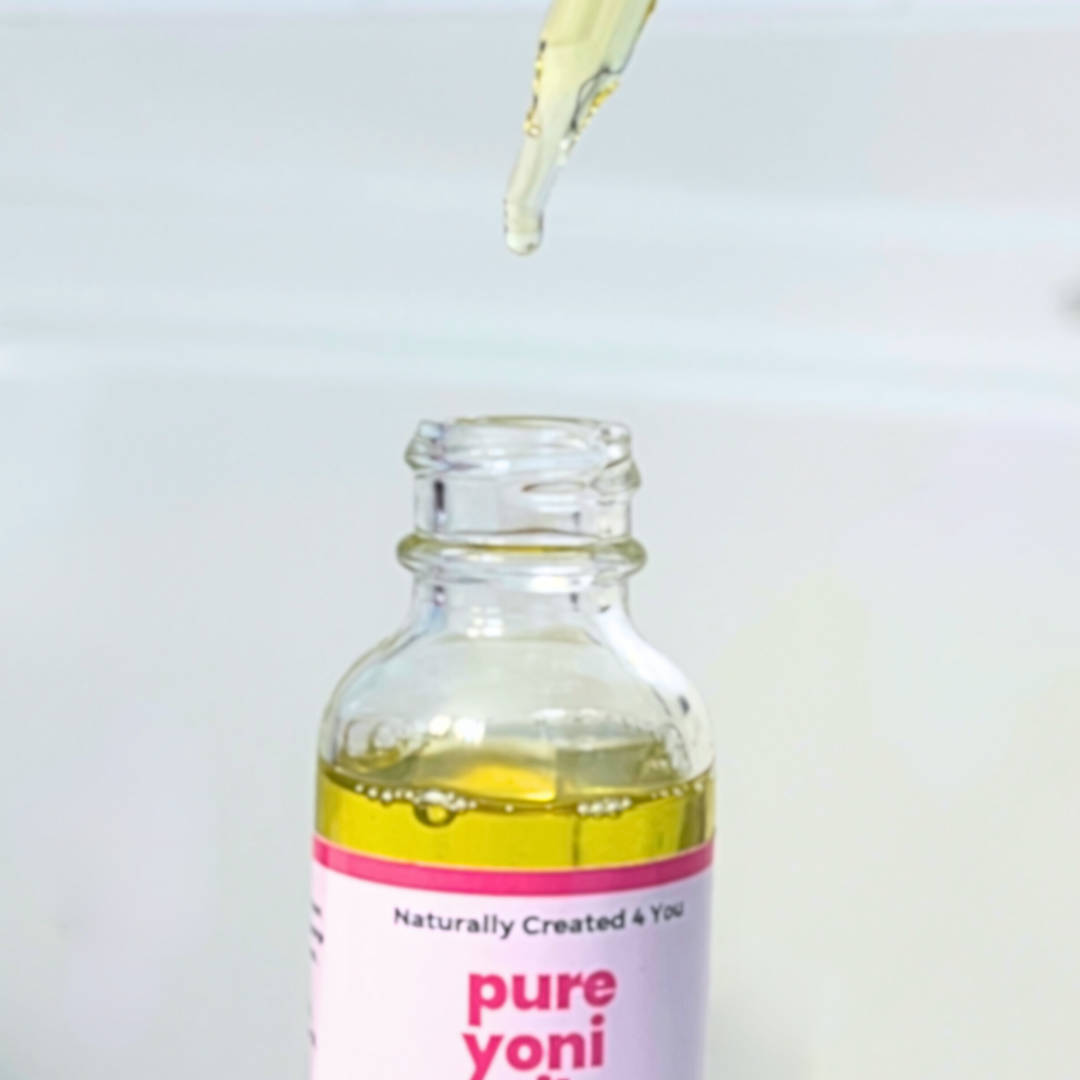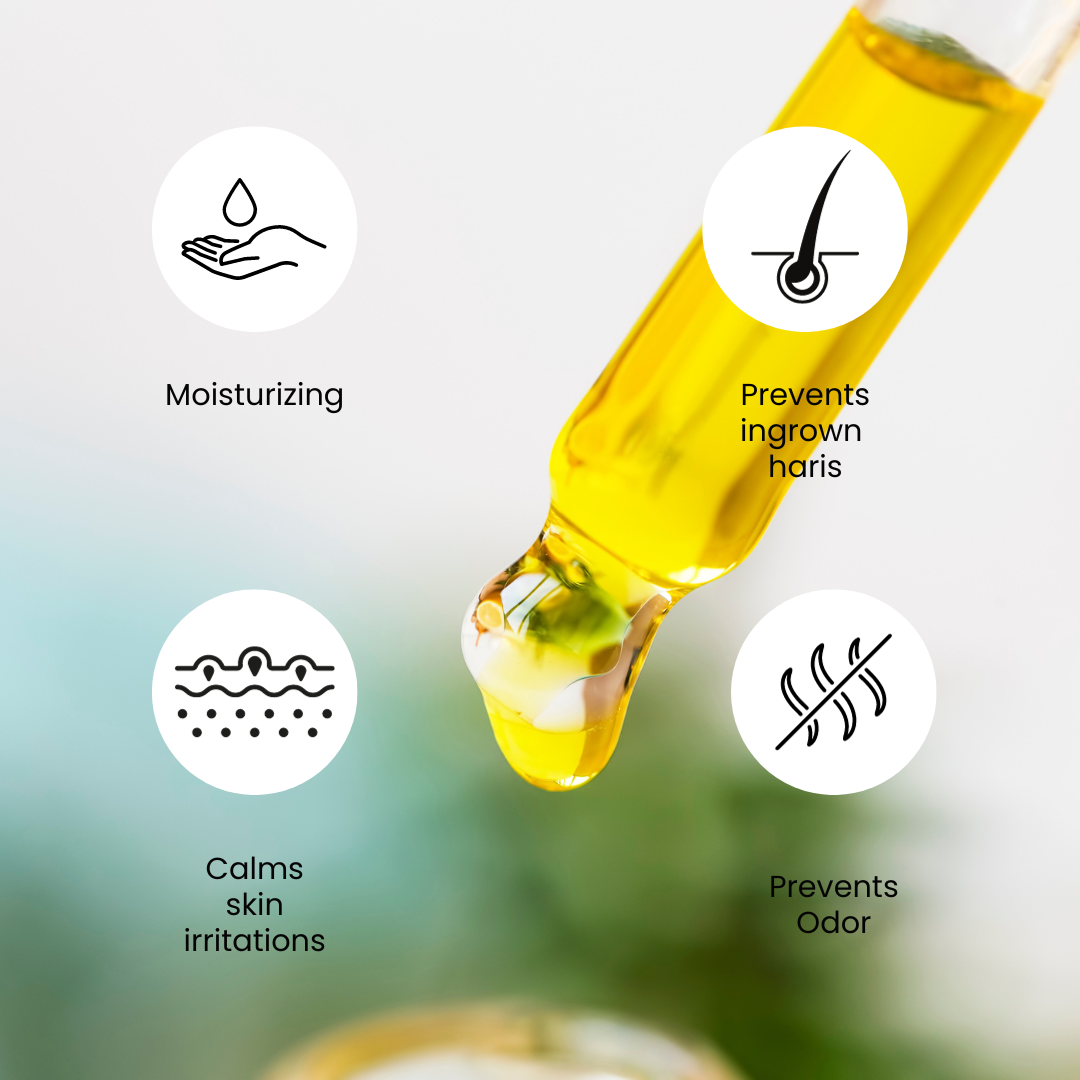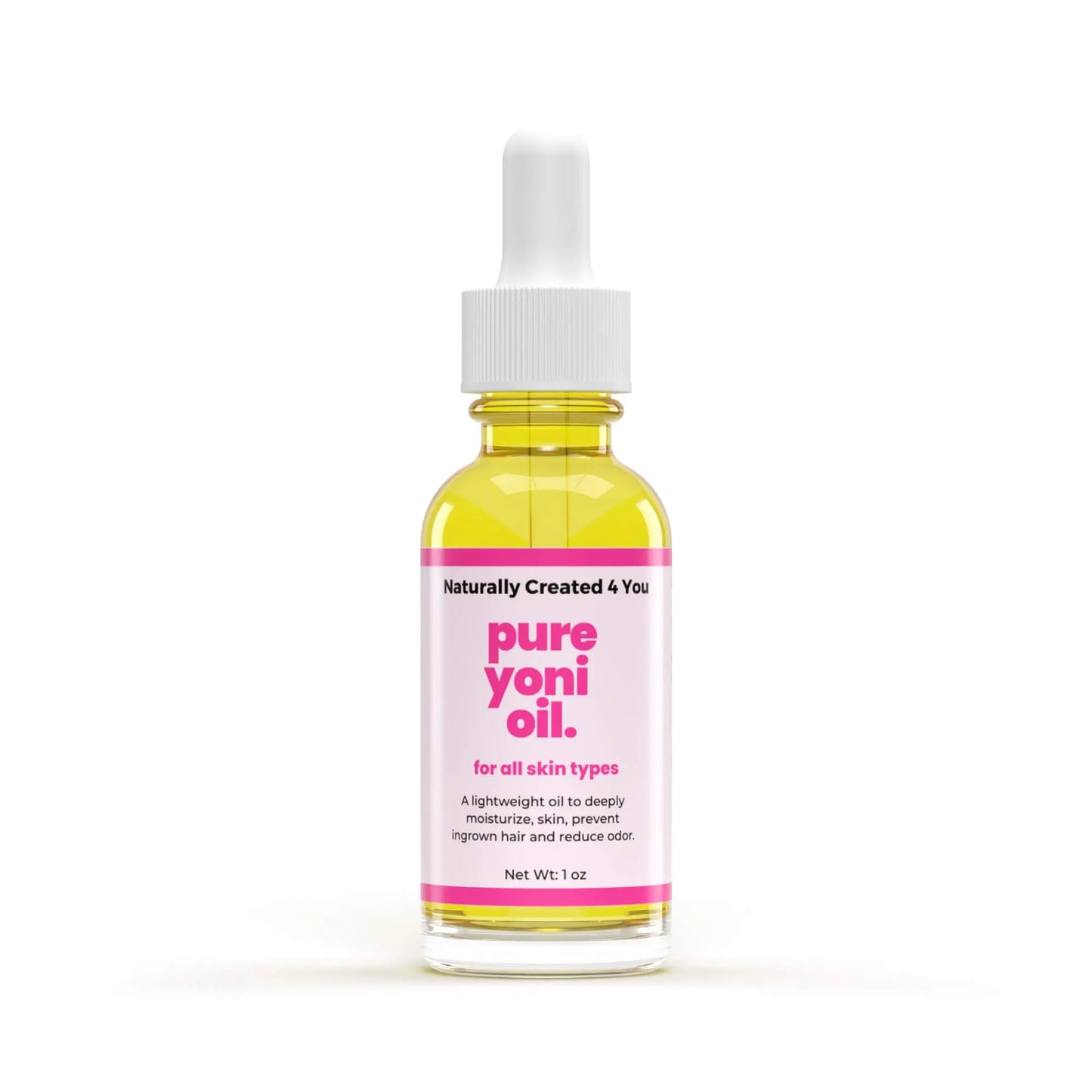 Let's Get into The Details
Why You'll Love It

Helps prevent ingrown hairs and promote smoother skin around the vaginal area
Moisturizes and soothes irritated skin
Increases natural vaginal lubrication for improved comfort
Lightly scented with natural essential oils for a pleasant fragrance
Helps to reduce unwanted odor and promote a fresh, clean feeling
Nourishes and softens the skin for a smoother, more youthful appearance.


Our Yoni Oil is a 100% natural moisturizer crafted to deeply nourish, protect and heal your intimate area. This soothing oil helps to moisturize, heal and protect sensitive skin, leaving it soft and supple. It is perfect for use after shaving or waxing, helping to prevent ingrown hairs and reduce irritation. With regular use, this gentle formula can promote overall vaginal health. Enjoy the benefits of this all-natural oil daily and feel confident in your most intimate moments.
What's In It?

Full ingredients: Jojoba Oil++, Coconut Oil++, Almond Oil, Ylang Ylang Essential Oil, Lavender Essential Oil++, Tea Tree Essential Oil++

*certified organic,  ** certified organic and fairtrade,  ++ECOCERT certified

Net Weight: 1 oz

All of our products are made with 100% natural ingredients. We do not use any preservatives or synthetic fragrance. Natural ingredients may vary in color and consistency due to the products being 100% natural.
How to Use It?

Gently shake before use. Apply 1 dropper onto clean fingers and gently massage yoni oil onto vaginal area. For external use only. Do not insert product into vaginal opening.

How to Store: Store upright in a cool, dry place and out of direct sunlight. 
Disclaimers

*DISCLAIMER: Our products may appear inconsistent in color due to the use of natural ingredients. We cannot guarantee the exact same color from batch to batch, but rest assured that the quality and effectiveness of the product remains the same.


*DISCLAIMER: Our products are for external use only. Please do a patch test on your skin before using new products. If irritation occurs, discontinue use immediately.


*DISCLAIMER: Information on our website and product labels are for educational purposes only and not intended as medical advice.If you are pregnant or nursing, or are concerned about a particular health condition, please consult your physician before using any of our products.


*DISCLAIMER: The Food and Drug Administration has not evaluated the statements made regarding our products. Our products are not intended to diagnose, treat, cure, or prevent any disease.
Good stuff
I would definitely recommend this oil, it feels so good to the kitty and it does what it say! Will order again😊
Never used Yoni Oil until know...
I ordered a sample Yoni oil, I've been using it every since I purchased. Amazing oil! I love it so much. I will be purchasing the larger amount.
I need a bigger bottle!!
This oil smells amazing! I love it! I just need a bigger bottle!!!
I've never used Yoni oil before but I now see how much I need it.
In just a few days, I noticed a huge difference in the smoothness of my intimate area.