Regular price
Sale price
$15.00
Unit price
per
Sale
Sold out
Hyaluronic Acid Serum aka your skin's hydration superhero! It's like a magical moisture magnet that not only quenches your skin's thirst but also gives you that coveted plump and youthful glow. Say goodbye to wrinkles and hello to fabulous, smooth, radiant skin – it's the ultimate skincare essential for your daily routine. 
Hyaluronic acid is suitable for all skin types, including sensitive and oily skin. It is non-comedogenic, meaning it won't clog pores. 
What is it? Hyaluronic acid, or HA for short, is a natural substance found in our skin, connective tissues, and eyes. It plays a crucial role in retaining moisture, which helps keep our skin plump and hydrated.  As we age, our skin's natural hyaluronic acid levels decrease, leading to dryness and the appearance of fine lines and wrinkles. Adding this serum into your daily routine deeply hydrates, plumps, and rejuvenates the skin, reducing the appearance of fine lines and wrinkles. 
1 oz
Share
View full details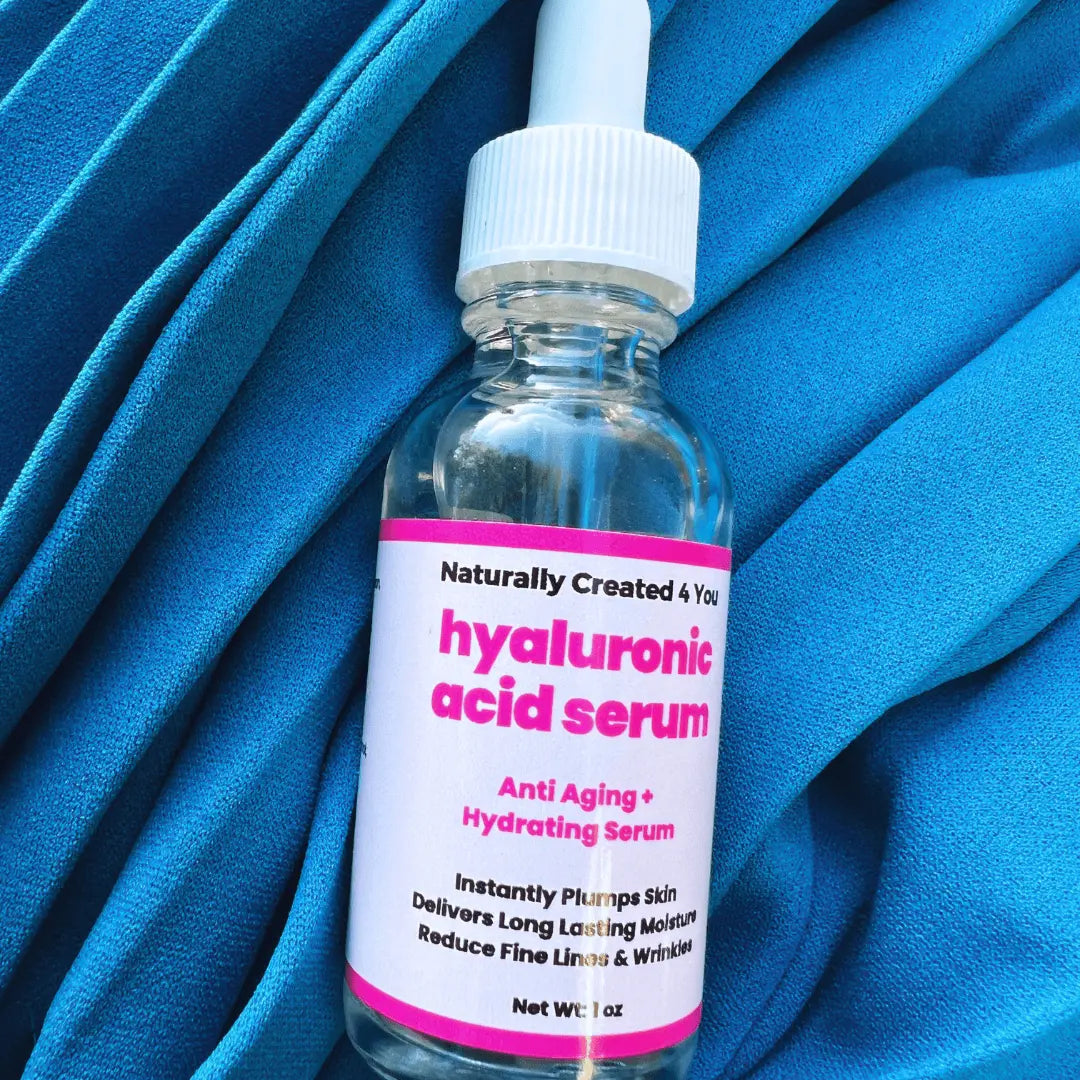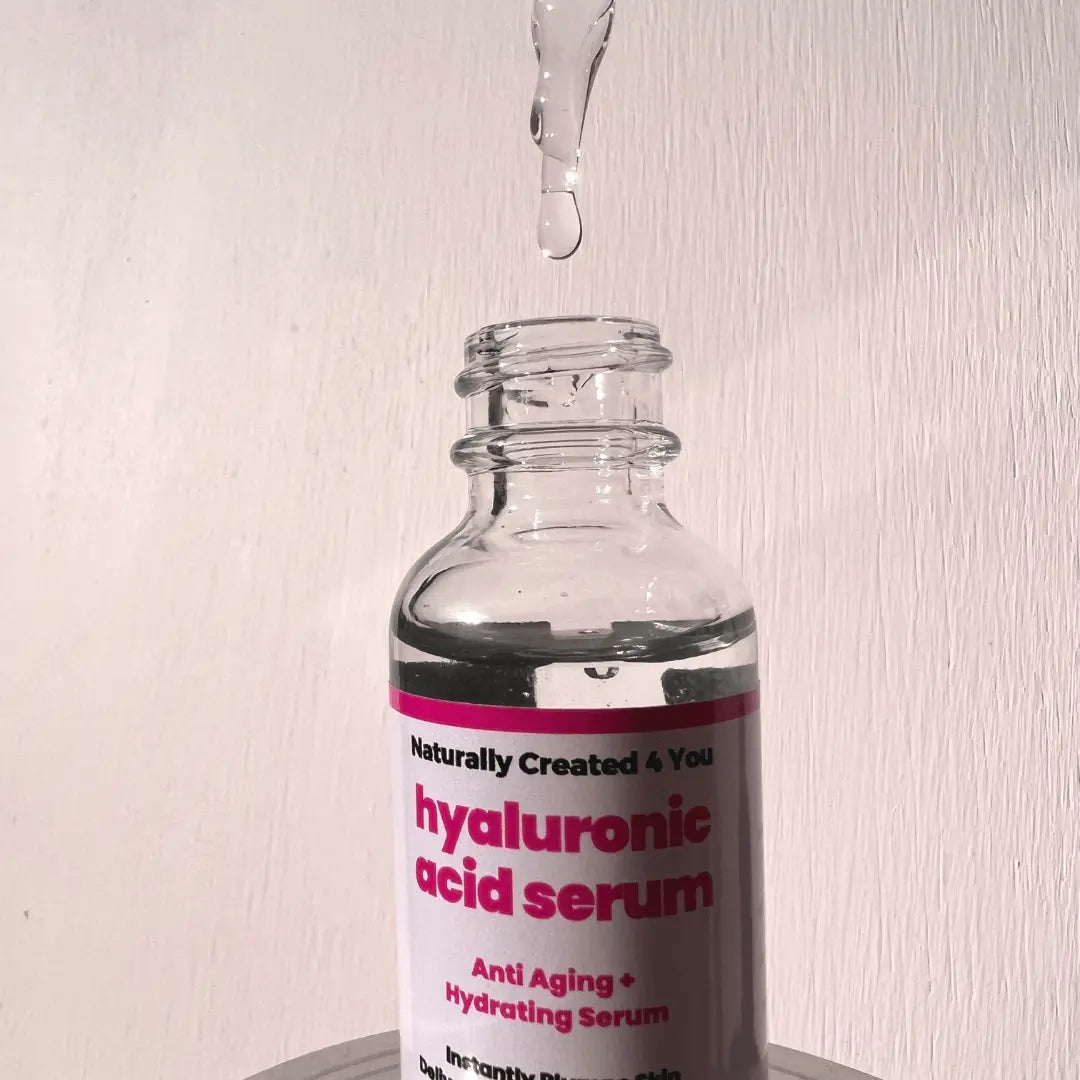 Let's Get into The Details
Why You'll Love It

Superior Hydration: HA is known for its ability to hold up to 1,000 times its weight in water. This makes it an incredibly effective moisturizer, as it can deeply penetrate the skin and lock in moisture.

Reduce Fine Lines & Wrinkles: One of the primary benefits of hyaluronic acid is its anti-aging properties. As we age, our skin's natural hyaluronic acid levels decrease, leading to dryness and the appearance of fine lines and wrinkles. Topical application of HA can help replenish moisture, resulting in smoother, more youthful-looking skin.

Improved Skin Texture: Regular use of hyaluronic acid can enhance skin texture by promoting a softer and more even-toned appearance, contributing to a healthier and radiant look.

Supports Skin Healing: HA can aid in wound healing and soothing skin irritations. It helps create a favorable environment for the skin to repair itself.

Won't Clog Pores: Hyaluronic acid is suitable for all skin types, including sensitive and oily skin. It is non-comedogenic, meaning it won't clog pores, and it is well-tolerated by most people.

Hyaluronic acid is often used in combination with other skincare products. It can be applied before heavier creams or serums to enhance their absorption and effectiveness. This should not be used as a stand alone moisturizer.

Overall, hyaluronic acid is a versatile and highly effective skincare ingredient known for its hydrating and anti-aging properties, making it a valuable addition to many skincare routines.
What's In It?

Full ingredients: Distilled Water, Sodium Hyaluronate, Phenoxyethanol, Caprylyl Glycol

Net Weight: 1 oz
How to Use It?

Apply a few drops onto clean, damp skin and gently massage into face & neck. Follow up with moisturizer. Safe to use AM & PM.

Danielle's Favorite Way to Use HA:
Step 1: Cleanse with Foaming Face Cleanser. Use clean towel to pat dry.

Step 2: Spray Lavender Toning Mist to refresh and tone skin. Do not wipe off.

Step 3: Massage a few drops of Hyaluronic Acid Serum onto damp skin.

Step 4: Massage a few drops of daily facial serum into skin. Follow up with face hydrating butter if your skin is on the dry side.
Disclaimers

*DISCLAIMER: Our products may appear inconsistent in color due to the use of natural ingredients. We cannot guarantee the exact same color from batch to batch, but rest assured that the quality and effectiveness of the product remains the same.


*DISCLAIMER: Our products are for external use only. Please do a patch test on your skin before using new products. If irritation occurs, discontinue use immediately.


*DISCLAIMER: Information on our website and product labels are for educational purposes only and not intended as medical advice.If you are pregnant or nursing, or are concerned about a particular health condition, please consult your physician before using any of our products.


*DISCLAIMER: The Food and Drug Administration has not evaluated the statements made regarding our products. Our products are not intended to diagnose, treat, cure, or prevent any disease.
Great products!!
To start the seller is very professional.. she responded to me & her testimony is amazing! To God be the Glory!
The products are GREAT!! I love the hyaluronic oil, the face butter & the turmeric scrub. To be honest .. I like all the products I purchased and when they finish I will be getting more. Thank you Daniellle!
Hylaronic Acid amazing-ness!!
First off I would like to say that my skin is apparently sensitive but I realized after using NC4Y products it's really not. I was hesitant to use this acid because I've used store bought in the past (Ulta, TJ Max, etc.,) and my face has turned red, but after using NC4Y I realized that my skin probably just didn't like all the unnecessary ingredients in those products. I patch tested this one and it works amazing, no burning, redness or irritation to the face 💯 recommend!
Amazing!!!
I ordered the serum but I didn't know what to expect. Well, less than a week later I ordered 2 more bottle! It makes my skin feel so lovely. I just rub it in, let it dry and then apply my moisturizer along with my foundation. They slide on like warm butter. I will never, ever be without this product!!! Do not hesitate to place your order. Danielle is so sweet, sends the products out in a timely manner and always includes a hand written thank you. I can't say enough about her or her products!
Favorite ❤️
Another favorite ❤️. My skin is drinking up this product along with the face butter! Love this combination together! I am noticing my skin is smoother and more subtle and it's not even been a week using it! Love it 🥰 Thank you Danielle!
Keeping this for good
I never cared to use a serum in my routine until I tried this one out. IT IS A MUST!! ❤️ My skin feels extra hydrated the next day and I feel my skin changing for good. I also noticed my smile lines/wrinkles aren't as noticeable as before after using this serum. ❤️ This product is worth ALL the hype 😁