Regular price
$14.00
Sale price
$12.00
Unit price
per
Sale
Sold out
Step into a world of feminine care with our Yoni Foaming Wash - because your intimate area deserves the same love and attention as the rest of your body and face. 
Created especially for women who have experienced irritation, odor, and itchiness from using harsh ingredients found in regular body soaps, our gentle cleanser is a breath of fresh air for your most delicate and sensitive skin. Our Yoni Wash not only cleanses but also calms and soothes irritated skin, leaving you feeling refreshed, moisturized, and utterly pampered.

Our natural feminine cleanser is created with an intentional blend of all-natural ingredients like soothing Aloe Vera, nourishing Coconut Oil, and a touch of invigorating essential oils, this lightweight cleansing foam is designed to elevate your intimate cleansing routine to a whole new level. Enjoy the refreshing minty and floral scent that adds a subtle yet delightful fragrance to your intimate cleansing routine. Bid farewell to discomfort and rediscover the joy of feeling clean and confident again. 
You will never find any fragrance oils in our products. We believe in incorporating only the natural goodness of essential oils, known for their skin-loving properties and therapeutic aromatherapy benefits. Our commitment to you is to only use ingredients that provide a benefit to your skin and overall health. 
Skin Type: For All Skin Types

Say Goodbye To: Irritation, Odor,  Dryness, Itchiness

Share
View full details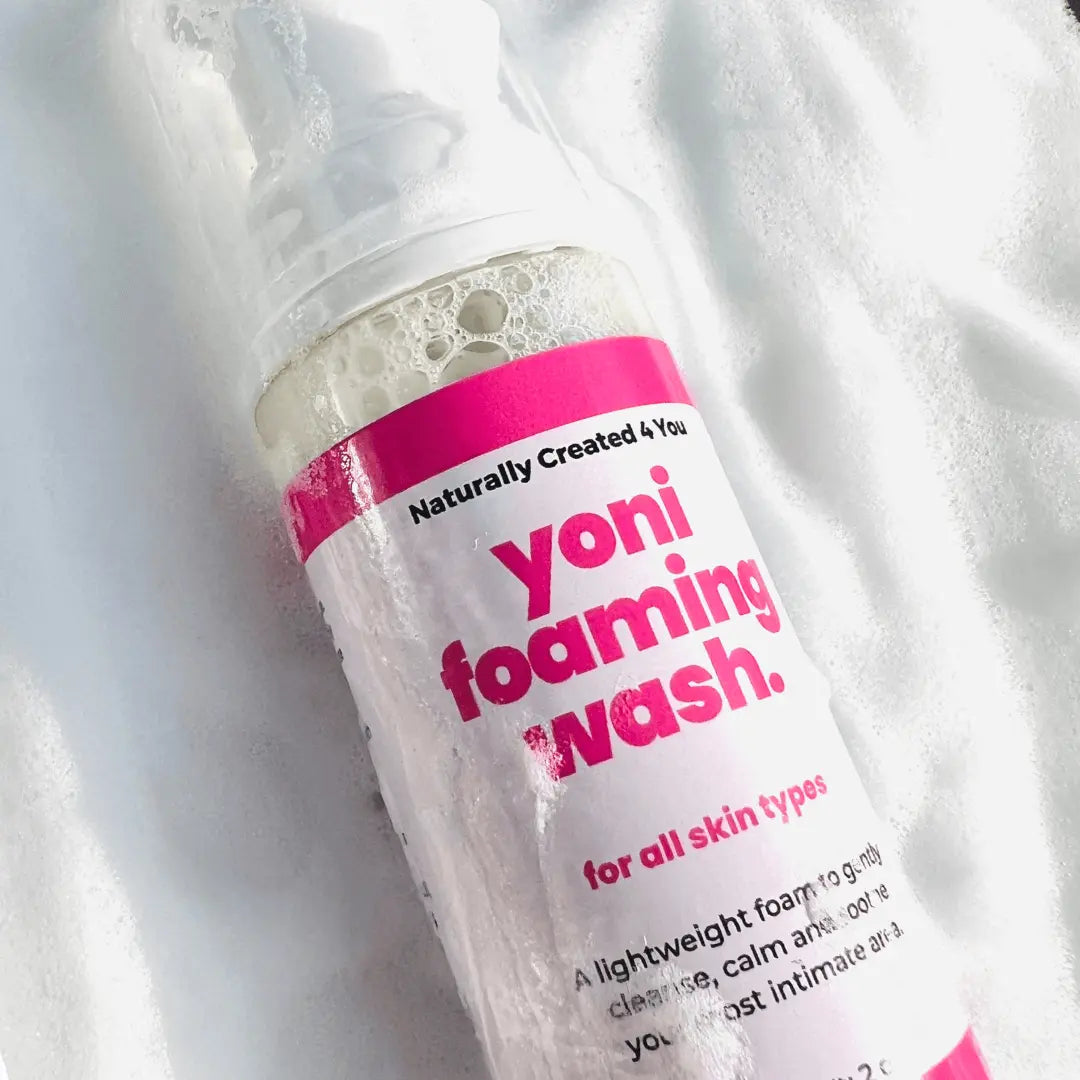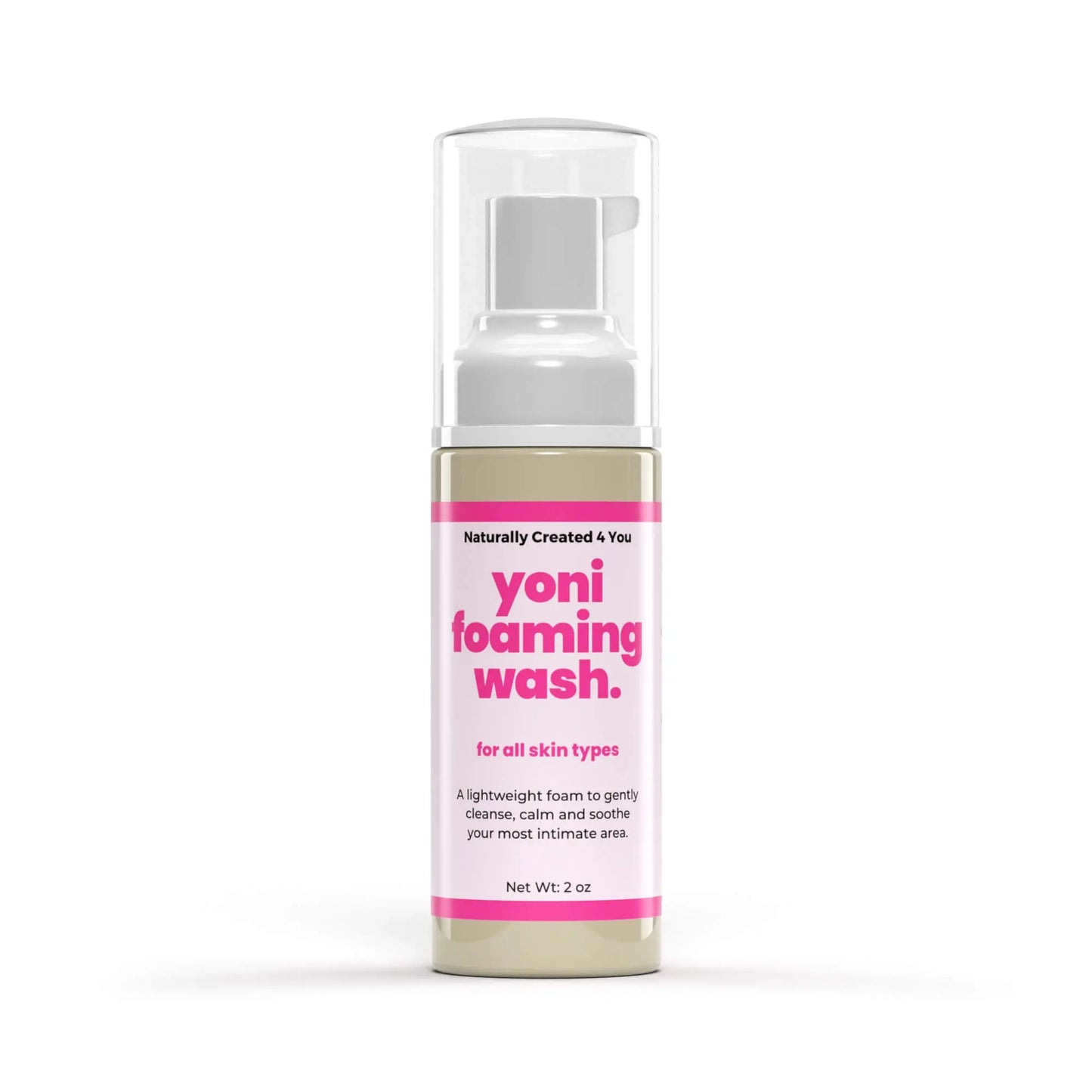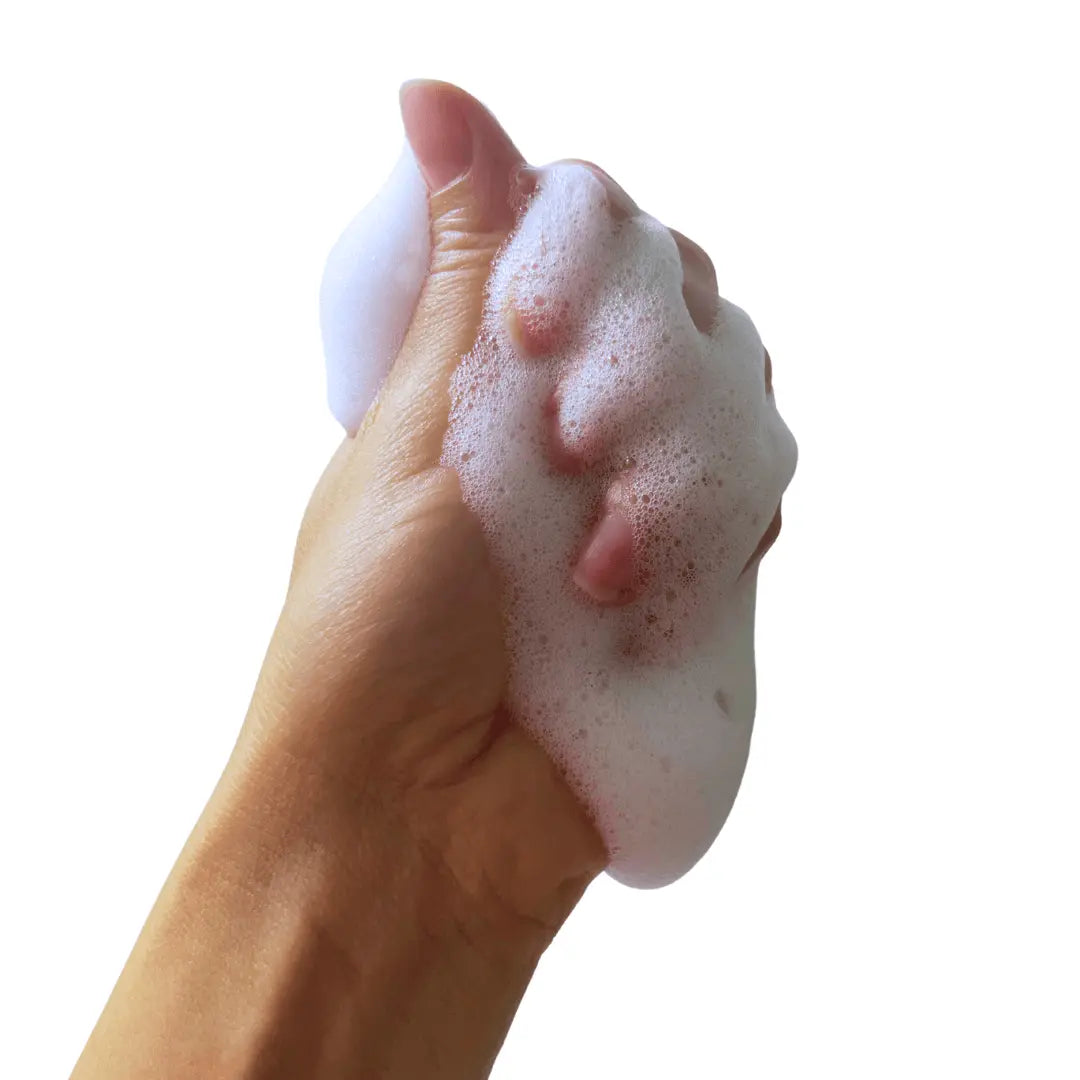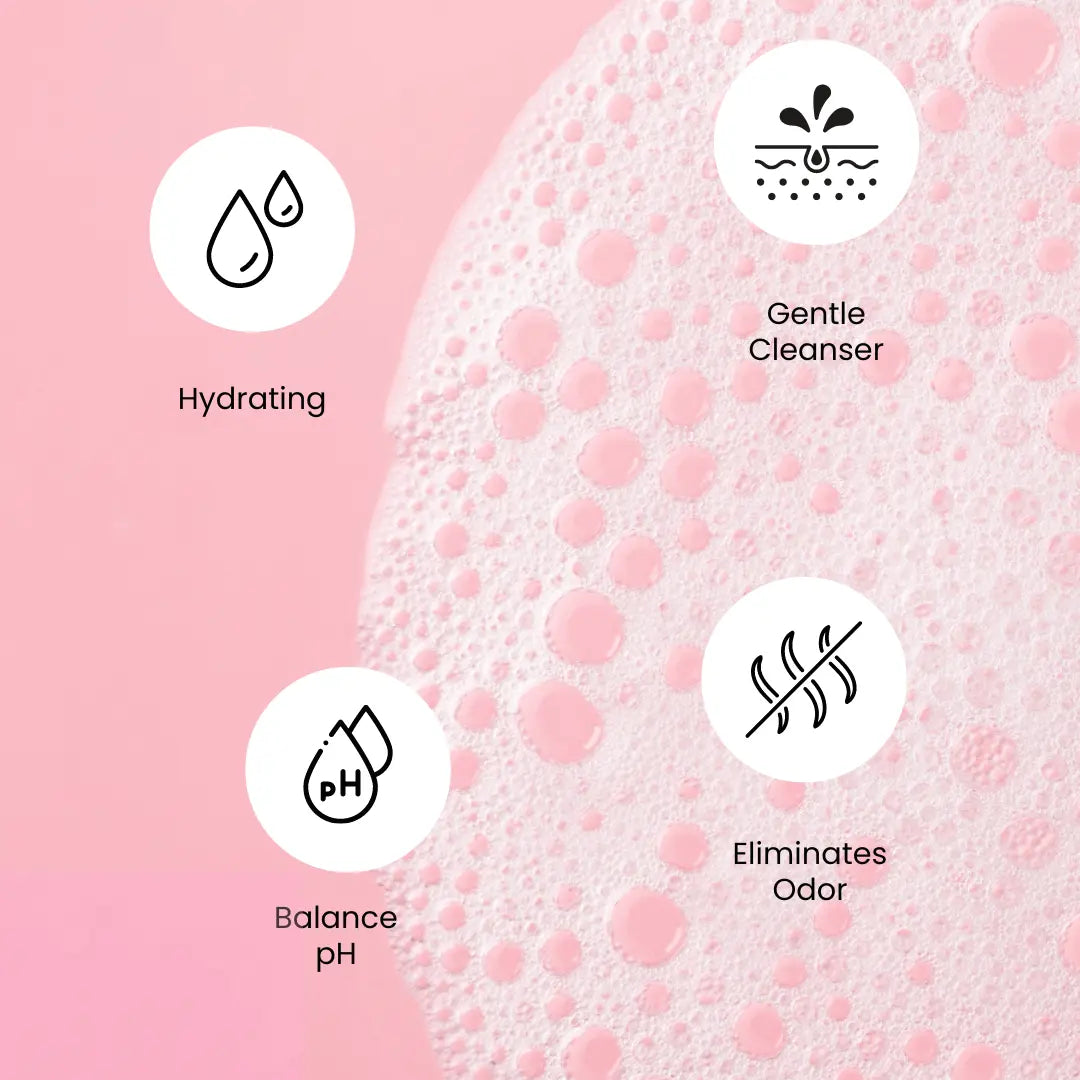 Let's Get into The Details
Star Ingredients

Why is aloe good for the skin?
Aloe Barbadensis is packed with vitamins, minerals and essential fatty acids that can help soothe your most intimate area. Aloe Barbadensis is a simple yet very effective natural ingredient to add to your feminine care routine. It's soothing and moisturizing properties are beneficial for vaginal dryness and helps with itching, burning and irritation.

Why is coconut oil good for the skin?
Coconut oil is known for its richness, moisturizing and soothing properties. It's been used in centuries as a natural remedy for a variety of conditions including infections, wounds and skin diseases. Coconut oil also helps prevent and protect against vaginal dryness. Additionally, coconut oil can help soothe itching, burning and inflammation due to vaginal dryness.

Why is almond oil good for the skin?
Almond oil is incredibly nourishing and easily absorbed. Almond oil is rich in vitamins, protein, and omega fatty acids, giving it a moisturizing effect that works well on your skin. It's also great for regulating hormone levels and easing menstrual cramps, making it a perfect choice for your feminine hygiene routine.
Why You'll Love It

Effectively eliminates feminine odor
Gently removes odor-causing bacteria for a fresher feeling
Soothes, protects, and hydrates intimate skin with its gentle formulation
Balances pH levels for a healthy intimate area
Travel-friendly size makes it convenient to carry in a gym bag, purse, or overnight bag.


Our Yoni Wash is specially crafted to provide natural cleansing for women who suffer from irritation or odor in their intimate areas. This gentle and effective wash is designed to calm and soothe irritated skin, leaving you feeling clean, fresh and confident. Made with simple yet powerful ingredients such as aloe vera, coconut oil and essential oils, our Yoni Wash gently cleanses and nourishes your most delicate area. Use it daily for a gentle and effective way to balance pH, eliminate feminine odor and keep your skin hydrated and protected.
What's In It?

Full ingredients: Distilled Aloe Vera, Castile Soap, Almond Oil, Coconut Oil++, Ylang Ylang Oil, Tea Tree Oil++, Peppermint Oil++

*certified organic,  ** certified organic and fairtrade,  ++ECOCERT certified

Net Weight: 2 oz | 7 oz

All of our products are made with 100% natural ingredients. We do not use any preservatives or synthetic fragrance. Natural ingredients may vary in color and consistency due to the products being 100% natural.
How to Use It?

Before use, shake the bottle gently. Apply 3-4 pumps to your vaginal area, then gently massage into your skin in a circular motion for 30-60 seconds. Rinse thoroughly with warm water, and follow up with our Pure Yoni Oil for optimal results.

*For external use only.

How to Store: Store upright in a cool, dry place and out of direct sunlight. 
Return Policy

We want you to be completely satisfied with your purchase. If for any reason you are not, you may return your products within 30 days of delivery. However, please note that our company is not liable for the cost of return shipping.

To initiate a return, please send an email to customerservice@naturallycreated4you.com with your order name, order number, and a brief explanation of the reason for the return. We will provide you with further instructions on how to proceed.

Once we receive the returned products, we will process a refund or offer store credit based on your preference. Refunds will be issued in the same form of payment used during the original purchase. Please allow 3-5 business days for the refund to be processed and reflected in your account.

Please note that products must be in new or gently used condition to be eligible for return. We do not refund original shipping charges. All gift cards, sale items and sample sizes are final sale.

Do you have questions, comments or concerns that you need help with? Fill out our form & we will get back to you within 24-48 hours. 

 

 

 
Disclaimers

*DISCLAIMER: Our products may appear inconsistent in color due to the use of natural ingredients. We cannot guarantee the exact same color from batch to batch, but rest assured that the quality and effectiveness of the product remains the same.


*DISCLAIMER: Our products are for external use only. Please do a patch test on your skin before using new products. If irritation occurs, discontinue use immediately.


*DISCLAIMER: Information on our website and product labels are for educational purposes only and not intended as medical advice.If you are pregnant or nursing, or are concerned about a particular health condition, please consult your physician before using any of our products.


*DISCLAIMER: The Food and Drug Administration has not evaluated the statements made regarding our products. Our products are not intended to diagnose, treat, cure, or prevent any disease.
Chef's kiss
Wasn't sure what to expect, but definitely fell in love. I've used yoni bar soaps & gels in the past, but this yoni foam wash TOPS them all. Unscented AND organic ingredients? You can't get anything better than this 😊
I noticed a difference when I stopped using this!! So I had to buy more!! That should speak for itself
I Love This Company n Their Products
I use the yoni wash daily, it is the only yoni product I have used for 2 years. It keeps me feeling fresh throughout the day and the scent is very light and pleasant. I love all of her products. I purchase the half gallon so I want run out of it 😆. I am definitely a lifetime customer, keep the new products coming hunni.
Be Blessed,
Serenna
Best products ever
This is like my 4th order of Yoni wash, on the go mist, tumbric scurb, and foaming black soap. I love them all definitely a lifetime custom here