Regular price
Sale price
$16.00
Unit price
per
Sale
Sold out
Our clay repair mask hydrates, soothes and improves overall skin complexion. Turmeric helps to brighten the skin while Sea Moss & Vitamin C promote collagen production, a protein that helps your skin maintain elasticity and hydration. Aloe Vera also helps to hydrate the skin as well as soothe any irritations. Lastly, Kaolin clay and Papaya gently exfoliate the skin to reveal a smooth, healthy complexion. 
We created this for those with dry, combo, sensitive and mature skin and want more control over the ingredients in their face mask. This mask can be customized to fit the needs of your skin as the seasons change by altering your liquid of choice. 
Share
View full details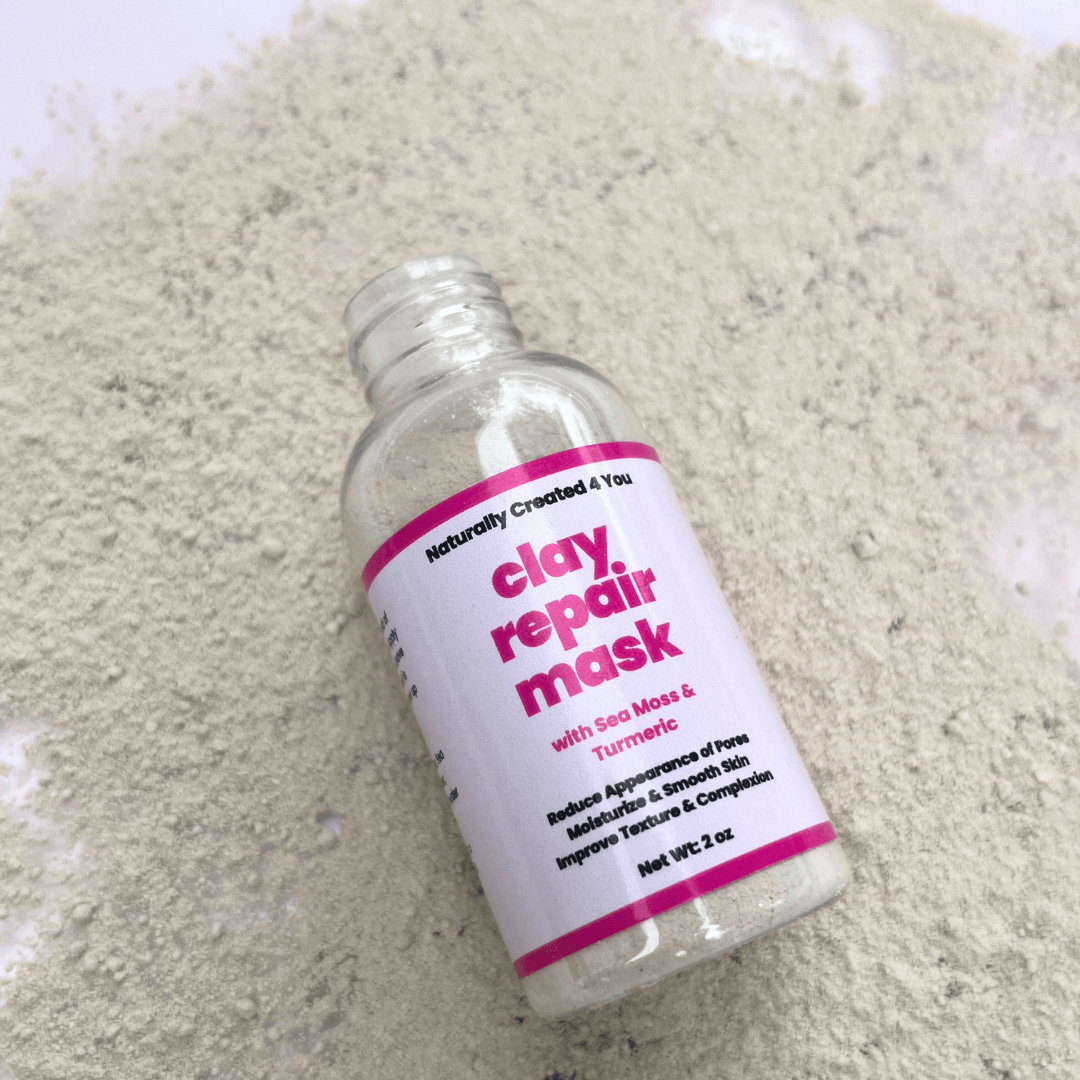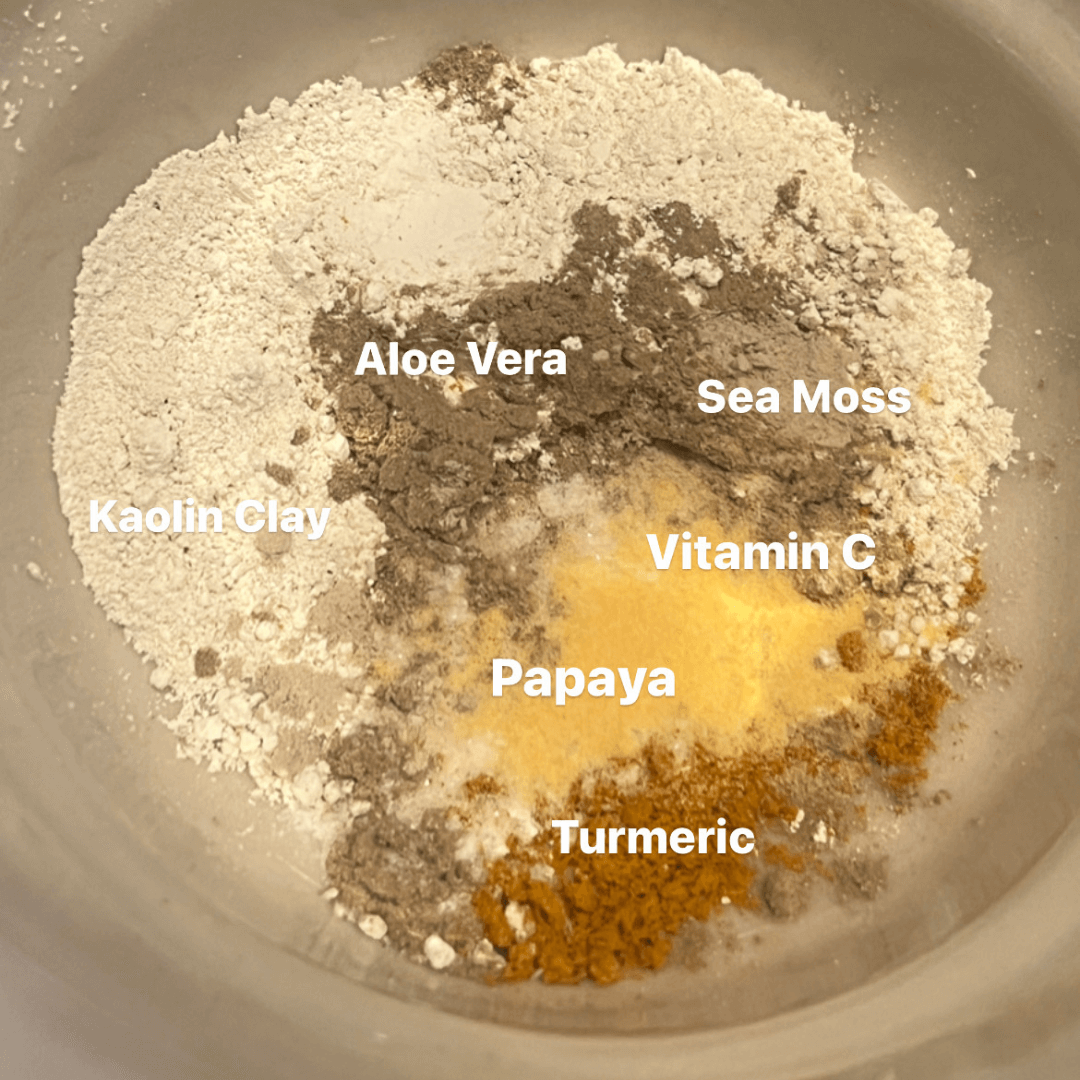 Let's Get into The Details
Why You'll Love It

Sea Moss and Vitamin C support collagen production for firmer, more youthful-looking skin.

Sea Moss is packed with essential minerals & vitamins to replenish and revitalize your skin.

Turmeric & Vitamin C fade the appearance of hyperpigmentation, leading to a more even skin tone.

Turmeric & Vitamin C brighten the skin, reducing dullness and enhancing your natural glow.

Sea Moss & Aloe Vera calms and soothes irritated skin, making it perfect for sensitive skin types. They are both a natural moisturizer that hydrates the skin without clogging pores.

Papaya contains enzymes that gently exfoliate, revealing fresher, smoother skin and aids in cell turnover, promoting a more youthful complexion.

Kaolin clay cleanses the skin, unclogs pores & can help minimize the appearance of pores, giving your skin a refined look.
What's In It?

Full ingredients: Kaolin Clay, Aloe Vera Powder, Sea Moss Powder*, Turmeric Powder*, Vitamin C Powder, Papaya Powder*

*certified organic,  ** certified organic and fairtrade,  ++ECOCERT certified

Net Weight: 2 oz

Our commitment to using 100% natural ingredients means that you may notice variations in color and consistency in our products. Rest assured, the quality remains consistently exceptional.
How to Use It?

To use our clay repair mask, start by mixing it with your preferred ingredient such as aloe, lavender or rose water, essential oils, or even water. Once you have your desired mix, apply a thin layer of the mask to your face and neck, avoiding the eye area. Leave it on for 10-15 minutes or until it dries completely. Rinse off with warm water and pat your skin dry. Use once or twice a week for best results. Follow up with cleanser, toner and moisturizer.

Essential Oils to Try: Lavender, Chamomile or Frankincense.

***For best results - do a face steam before applying clay mask to open your pores


*Please remember skin care is not a one size fits all. It's not a big a deal if you do not have each product in your skin care routine. We promote simple skin care and doing what works best for you and your skin. Your skin may need less or may need more and that's perfectly okay! 

How to Store: Store upright in a cool, dry place and out of direct sunlight. 
Disclaimers

*DISCLAIMER: Our products may appear inconsistent in color due to the use of natural ingredients. We cannot guarantee the exact same color from batch to batch, but rest assured that the quality and effectiveness of the product remains the same.


*DISCLAIMER: Our products are for external use only. Please do a patch test on your skin before using new products. If irritation occurs, discontinue use immediately.


*DISCLAIMER: Information on our website and product labels are for educational purposes only and not intended as medical advice.If you are pregnant or nursing, or are concerned about a particular health condition, please consult your physician before using any of our products.


*DISCLAIMER: The Food and Drug Administration has not evaluated the statements made regarding our products. Our products are not intended to diagnose, treat, cure, or prevent any disease.